Waves of rubbish wash up in Dubrovnik port
Comments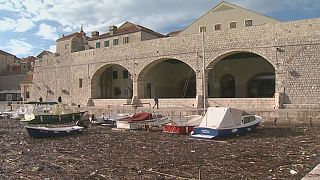 City authorities and citizens alike banded together to clean up the beautiful port in Dubrovnik after it was cloggedby large amounts of rubbish.
Strong winds pushed the debris, including a few dead animals and a World War Two naval mine, north up the coastline from Albania.
"Unfortunately we could not go out by boats because currents are too strong. They cannot turn on the engines and simply do not have enough strength to paddle," said Orlanda Tokic, Dubrovnik's deputy mayor on the cleanup operation.
Volunteers were hoping to clear the mess, the largest in the Croatian city's living memory, by nightfall Sunday (December 17) but rain hindered their efforts.
A change in weather is expected to bring a northerly wind that would help efforts.