Pakistan Taliban in deadly attack on farming college
Comments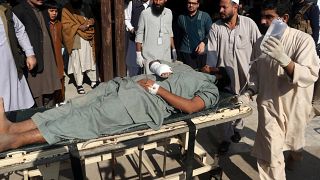 Copyright

REUTERS/Khurram Parvez
In Pakistan, at least nine people have been killed and dozens more hurt in an attack on an agriculture college.
Gunmen wearing burqas stormed the campus on Friday morning. Police say they arrived in an auto-rickshaw and shot a guard before entering. The incident occured at the Agriculture Training Institute in the northern city of Peshawar.
A wounded student, Ahteshan ul-Haq, told Reuters the university hostel usually houses nearly 400 students, but most had gone home for a long holiday weekend and only about 120 students remained.
The siege ended after two hours when police and army troops killed all the gunmen.
The Pakistani Taliban has claimed responsibility saying it was targeting a military safe house.
In December 2014, Pakistani Taliban gunmen killed 134 children at Peshawar's Army Public School, one of the single deadliest attacks in the country's history.
The Pakistani Taliban are fighting to topple the government and install a strict interpretation of Islamic law. They are loosely allied with the Afghan Taliban insurgents who ruled most of Afghanistan until they were overthrown by U.S.-backed military action in 2001.