Russia's Polina Bogusevich wins Junior Eurovision Contest
Comments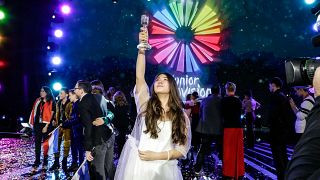 Russia has won the 15th Junior Eurovision Song Contest, which was held in Georgia on Sunday night.
Polina Bogusevich, who is 14, emerged victorious with the song "Wings", finishing on 188 points - just ahead of the host country's entry.
Grigol Kipshidze, who represented Georgia with "Voice Of A Heart", ended only three points behind on 185.
Third place went to Australia's Isabella Clarke, the 13-year-old giving an impressive performance with "Speak Up".
Bogusevich is the second Russian entrant to win Junior Eurovision. Born in Moscow in 2003, she is a student at the Academy of Popular Music and has been singing professionally for five years.
Her song "Wings" was given an English title for the final after it won the Russian selection under its original version, "Krylya".
Sixteen countries competed in the Junior Eurovision final, which was held at the Tbilisi Sports Palace.
The results were determined by a 50-50 split between national juries and online voting.
Georgia's Kipshidze won the jury vote, six countries giving him the maximum 12 points. The Netherlands' entry, the boy band Fource, came top of the online vote and finished fourth in the overall ranking.