Toledo shows his steel at Hawaiian Pro
Comments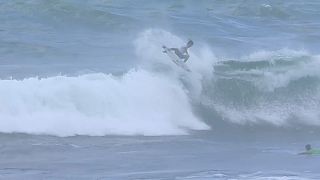 Brazil's Filipe Toledo, the world number nine, has won the Hawaiian Pro, the operning round of the Hawaii surf season. America's Griffin Colapinto secured the runner-up's spot, which qualifies the 19-year-old for the Elite 2018 Championship Tour
Toledo is now in the cat bird seat in the Vans Triple Crown. All the competitors had to deal with windy surf in the 2 metre range, and Toledo's speed, power and flow was dynamic throughout the final day posting an 8.87 and a 7.67 to take the win.
Fellow Brazilian surfers Tomas Hermes and Willian Cardosa also both qualified for the 2018 elite tour at this event.
Colapinto's fantastic result sees him join the elite, as the world's top 36 surfers compete on the Championship Tour which determines each season's World Champion. The next event is the Vans World Cup of Surfing at Sunset Beach beginning on Nov 25.