Carmen Lopez: blind surfer aiming to triumph at World Adaptive Surfing Championship
Comments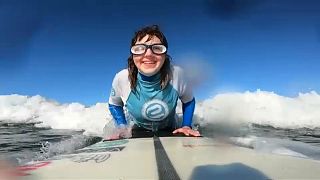 Carmen Lopez is in her element riding waves, but one thing sets her apart from other surfers — she can't see her board or the swell.
The 21-year-old Spaniard relies on instinct and signals whistled by her coach when she trains in the in the Bay of Biscay in northern Spain.
"I feel free and relaxed. I don't have any concerns and it's just me and the wave," she said.
Lopez trained hard to become Spain's first blind female athlete to enter the World Adaptive Surfing Championship in La Jolla, California, from December 12-16.
Blind surfers have achieved legendary status in the sport and Lopez is aiming high, despite only taking the sport up a few months ago.
She wants to compete in the 2024 Paralympic Games in Paris. The International Surfing Association (ISA) has been campaigning to make adaptive surfing a Paralympic sport.