Hopes fade for missing Argentine submarine
Comments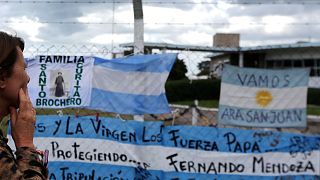 A sound detected in the South Atlantic near where an Argentine submarine was last heard from six days ago is not believed to have come from the missing vessel.
It means the search is still on for the naval submarine with 44 crew on board but rough seas are hampering efforts. More than a dozen boats and aircraft from Argentina, the United States, Britain, Chile and Brazil have joined in the hunt for the submarine.
Malfunction
The ARA San Juan had reported an electrical problem and was heading back to its base at Mar del Plata when it disappeared. The malfunction did not necessarily cause an emergency. The craft is said to have been navigating normally, underwater, at a speed of five knots toward Mar del Plata when it was last heard from.
The families of crew members have gathered at the base awaiting news. One of the crew is Argentina's first female submarine officer, Eliana Maria Krawczyk, 35, who joined the navy in 2004 and rose to become the master-at-arms aboard the ARA San Juan.
Argentina's navy says sounds detected by probes deep in the South Atlantic didn't come from missing sub. https://t.co/AVFl10vyitpic.twitter.com/UoMvxxGZck

—

ABC

News (@ABC) November 21, 2017
The disappointment over the unidentified noise followed an earlier let down when the Argentine navy said satellite calls detected over the weekend did not come from the sub.
In fact the San Juan which has oxygen for seven days is thought to have sent its last signal on Wednesday (November 15).
The ARA San Juan was inaugurated in 1983, making it the newest of the three submarines in the navy's fleet. Built in Germany, it underwent maintenance in 2008 in Argentina.
That maintenance included the replacement of its four diesel engines and its electric propeller engines, according to specialist publication Jane's Sentinel.