Catalonian Speaker bailed: Spain reacts
Comments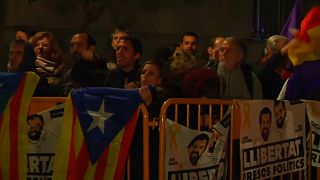 She left Madrid's Supreme Court to shouts of "you're not alone".
After a long day of hearings, the Speaker of the Catalonian Parliament, Carme Forcadell was granted bail on charges of rebellion, sedition, and misuse of public funds. Afterwards she was returned to Alcala Meco prison, outside Madrid, where she will be kept until she posts funds of 150,000 euros.
In a tweet shortly after the end of the judicial marathon, Forcadell thanked all her supporters:
Moltes gràcies a totes i a tots pel vostre suport, escalf i estima.

— Carme Forcadell (@ForcadellCarme) November 9, 2017
Five other members of the Parliament's governing body were released, one without bail.
The hearing was in the Spanish Supreme Court, rather than the High Court, where the separatist leaders are being tried, because the defendants still have parliamentary immunity.
Democracy a crime?
If those opposing the charges faced by Forcadell and her colleagues were relieved, they were also underwhelmed by the decision.
The national MP for Barcelona, Ester Capella, who represents the Republican Left of Catalonia, said:
"The reasons for this case are politcal, not legal. The crime imputed to Carmen Forcadell is allowing the political debate of a parliamentary majority that has a democratic mandate from the polls on 27 September".
Forcadell and the rest of Catalan lawmakers didn't commit any crimes. Their crime was being independence supporters. So Spain is judging ideologies, not facts: a pure dictatorship (and inside this shameful EU).

— Jan? (@jan_xc) November 10, 2017
Court respectful of general principles
Ignacio González Vega, the spokeperson for professional association, Judges for Democracy, told Euronews that the measures taken by the Supreme Court were less severe than those of the National Court, and more in line with a statement the body had recently issued on legal guarantees and rights. He said the decision was more respectful of the principle of freedom.
Euronews' Carlos Marlasca reports that Judge Pedro Llarena's decision to free the accused, even on bail, could be a game changer for the eight members of the Catalan government who are currently in prison, particularly if the Supreme Court has the final say in their case.