Spain's high court jails Catalonia's secessionist leaders ahead of trial
Comments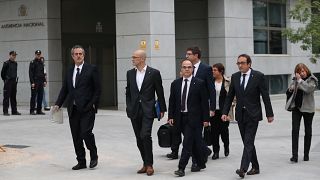 Eight of Catalonia's separatist leaders have been jailed after appearing in court on charges of sedition, rebellion and misuse of public funds.
The judge refused them bail amid fears they may also abscond like the sacked Catalan president Carles Puidgemont.
It comes after Spain's state prosecutor called for most of the group of 19 ministers to be jailed pending an investigation over their role in Catalonia's illegal push for independence.
But the prosecutor recommended that one of them, Santi Vila, should be granted bail of 50,000 euros. He stepped down from the Catalan cabinet before a unilateral declaration of independence and has since then been pushing for a negotiated solution with the government.
The courts have already told the Catalan secessionist leaders to deposit 6.2 million euros by Friday to cover potential liabilities.