Catalan parliament speaker and MPs appear before Spain's Supreme Court
Comments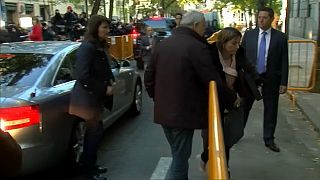 The speaker of Catalonia's parliament and five of its members have appeared before Spain's Supreme Court in Madrid.
Carme Forcadell and the MPs arrived to pro and anti-independence protests on Thursday morning.
They face charges of rebellion, sedition and embezzlement of public funds over their role in Catalonia's banned independence referendum last month.
Spain's state prosecutor asked the judge to jail Forcadell and three other lawmakers, and for the others to be released on certain conditions, according to a court source.
The court declined to comment. Hearings were still going on into the early evening on Thursday.
If the judge upholds the request, the speaker and the others would join several former members of the Catalan government and the leaders of the two main pro-independence groups already in custody awaiting trial for their roles in the drive towards independence. An investigation is continuing into their activities.
However Forcadell has reportedly said she will comply fully with emergency powers imposed by Madrid and custody in her case was thought unlikely, according to El Pais newspaper. She is said to have described the October referendum in the region as not having been legally binding.
Deposed Catalan president, Carles Puigdemont, went into self-imposed exile in Belgium last week after Spain's central government responded to his independence declaration by firing his administration, dissolving the Catalan parliament and calling regional elections for December.
He faces extradition, again on charges of rebellion and sedition.
The push for Catalan independence, and the unilateral declaration last month following a referendum which was illegal under the Spanish constitution, have deeply divided Spain and brought its worst political crisis since the return of democracy in the 1970s.