Uber drivers in Brazil protest stricter regulations
Comments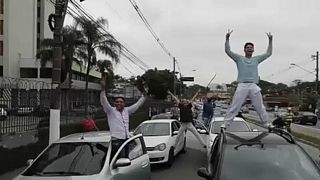 Uber drivers snarled up traffic with "go-slow" parades across Brazil on Monday (Oct. 30) to protest a bill aimed at regulating their service like traditional taxis.
Uber says this would kill its business model, and many drivers fear they could lose their livelihoods.
"In a world where we need more competition to have a better supply of services at lower costs, what the government is doing goes against the global principles of this type of transport," said protest organizer Marlon Luz.
Around 1,500 cars wound through the streets of Sao Paulo for three hours, according to organisers.
Brazil is Uber's third-biggest market with 17 million users, and Sao Paulo alone sees more trips than any other city in the world, ahead of New York and Mexico City, according to the company.
The new legislation, which has already been passed by the lower house of Congress, would require cities to regulate the app by levying new taxes, and requiring insurance for passengers, as well as pension benefits for drivers.
Brazilian cab drivers have pushed for the measures, complaining that Uber and similar companies can undercut taxi rates because they don't face the same regulation.
Bureaucratic nightmare?
Uber's Chief Executive Dara Khosrowshahi arrived in Brazil to lobby against the bill, which is due to be voted on by the Senate on Tuesday.
A spokesman for the company said the application as it exists could not operate under the new rules, including the use of a taxi license plate on cars owned by Uber drivers.
"The bill will create so much bureaucracy that it prevents the 500,000 drivers in Brazil from earning income for their families," Uber said in a statement.
If the Senate votes to approve the bill, it will be up to President Michel Temer to sign or veto all or parts of the legislation.
Uber is already battling to keep operating in London after the city's transport regulator deemed it unfit to run a taxi service and refused to renew its license.