Montmartre celebrates Paris' vines and wines
Comments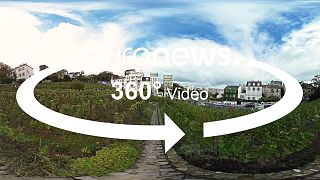 Montmartre is famous for the Sacré-Coeur basilica. But it is lesser known for Clos Montmartre, Paris' only wine producing vineyard. The area was once covered in vines until a virus all but wiped them out. That, along with urban development.
Every year locals celebrate the harvesting of the grapes with special activities such as tastings of artisanal and regional foods, dances, walks, exhibitions among others.
Alain Coquard, Montmartre's President, opened the festivities: "I declare open the 84th harvest festival with you all my friends. Together, let us continue to do good in joy and let light be."
A month earlier, about thirty grape pickers harvested grapes from 1,600 feet of vines from the Montmartre hill.
Vincent, has been a Clos-Montmartre winemaker for more than a year.
It's rare to find a vineyard in the heart of a city, It's also rewarding to see a vineyard grow even between houses, to have good production and to make good wine. "
This year 1050 kilos of grapes were harvested. Well filled buckets are sent directly to the cellar of the town hall of the 18th arrondissement in Paris to be made into wine
The first step is sorting grapes with Sylviane Leplatre, the vinyard's oenologist or wine expert.
"We are sorting the grapes so that we can select the most interesting grapes to make the red. And the most suitable grapes to make rosé."
After sorting there is pressing and fermentation. In one year, the 800 bottles of Parisian wine produced will be sold with the profits going to charity.