Two Catalan separatists are jailed
Comments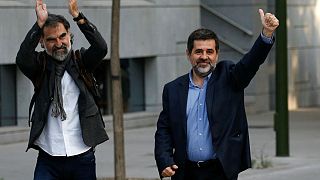 Two key members of Catalonia's independence movement have been detained pending an investigation into alleged sedition.
Prosecutors allege that Jordi Sanchez who heads the Catalan National Assembly (ANC) and Jordi Cuixart leader of Omnium Cultural played central roles in orchestrating the Oct 1 referendum.
They are also accused of orchestrating pro-independence protests that trapped national police inside a Barcelona building and destroyed their vehicles.
Anticipating his arrest Sanchez recorded a video saying This is not justice. It's an act aimed at frightening us and punishing us for defending freedom".
Catalan regional President Carles Puigdemont Tweeted: "They are trying to imprison ideas, but they have strengthened our need for freedom".
He also commented, " Spain jails Catalonia's civil society leaders for organising peaceful demonstrations. Sadly, we have political prisoners once again." – an allusion to Spain's military dictatorship under Francisco Franco.
Later dozens of people in Barcelona showed they discomfort with the detentions by leaning on their balconies, many decorated with pro-independence flags, and banging pots.
Barcelona Firefighters tonight protest againt the detention of civical Catalonia's leaders pic.twitter.com/rTg8p9PqP7

— Help Catalonia (@CataloniaHelp2) October 16, 2017
Just hours before the decision to detain the two men, the High Court freed the head of Catalonia's police force, Josep Lluis Trapero.
His force, the Mossos d'Esquadra, is accused of failing to help Spain's Guardia Civil police tackle thousands of pro-independence protesters in Barcelona during the run-up to the referendum.
The arrests of Sanchez and Cuixart are however being seen as a hardening of Madrid's stance. Catalan's leader has until Thursday to back down over his apparent independence bid.