US air strikes block convoy transferring ISIL fighters
Comments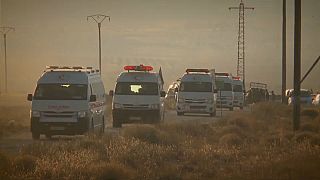 The U.S.-led coalition said on Wednesday it carried out air strikes to stop a convoy of Islamic State militants and their families from reaching territory the group holds in eastern Syria.
The militants were being evacuated from the Lebanese border as part of a controversial truce deal with Hezbollah.
Brett McGurk, the US special envoy to the coalition, said on Twitter the ISIL fighters "should be killed on the battlefield", not be bused across Syria, and that they should never enter Iraq, which doesn't want more jihadists at its border.
The coalition said it cratered a road and destroyed a bridge to stop the convoy from moving further east, but that it would only carry out direct strikes on the vehicles if the militants could be separated from civilians.
Irreconcilable #ISIS terrorists should be killed on the battlefield, not bused across #Syria to the Iraqi border without #Iraq's consent 1/2

— Brett McGurk (@brett_mcgurk) August 30, 2017
Our coalition</a> will help ensure that these terrorists can never enter <a href="https://twitter.com/hashtag/Iraq?src=hash">#Iraq</a> or escape from what remains of their dwindling "caliphate." 2/2</p>— Brett McGurk (brett_mcgurk) August 30, 2017
Coalition military forces conducted airstrikes in #Syria to prevent the transport of #ISIS terrorists to the borders of our Iraqi partners. pic.twitter.com/HLVonJz1P4

— Brett McGurk (@brett_mcgurk) August 30, 2017
An estimated 300 insurgents were among those being evacuated. It was part of a deal brokered with the Lebanese Army on one front and Hezbollah and the Syrian army on the other.
The transfer ends a significant insurgence presence on the Lebanese border, which Lebanon has been keen to suppress.