Spain attacks: Suspects charged after revealing plans for bigger attack
Comments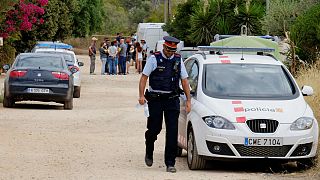 A Spanish judge has charged two men held in connection with the attack in central Barcelona last week, a third suspect has been held for further questioning and a fourth man has been freed.
Earlier, it was revealed the alleged Islamist-militants were planning a much bigger attack involving explosives, according to judicial sources.
One of the alleged assailants Mohamed Houli Chemlal testified on Tuesday (August 22) in front of the High Court in Madrid.
He was arrested after being hurt in a blast at a house in Alcanar, southwest of Barcelona, the day before the deadly attack on pedestrians on Las Ramblas boulevard which killed 13 people.
The group's plans, which included attacking the city's Sagrada Familia cathedral, were scaled back after that incident.
In total 15 people were killed and more than 100 injured in Barcelona and Cambrils.
Eight members of the alleged terror cell are dead – two were killed in the Alcanar explosion, and six were later shot by police, including five after the Cambrils attack.
The surviving four suspects had been charged with terrorist murder, belonging to a terrorist organisation and possession of explosives, according to a source.