Cambrils van spotted in Paris ahead of attack
Comments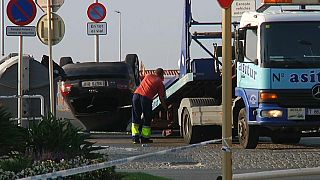 Le Parisien newspaper reported on Tuesday that the blue Audi responsible for last week's attack in the Spanish resort of Cambrils was caught speeding in Paris just days ahead of the attack.
But interior minister Gerard Collomb said French authorities were unaware of the terrorist cell. The group was also responsible for the attack in Barcelona that left 13 people dead and more than a hundred injured.
Spanish investigators are now focusing on Abdelbaki Es Satty – an imam at a mosque in the town of Ripoll.
Es Satty was killed before the two attacks when a homemade bomb exploded at a house in Alcanar.
On Monday, Spanish police shot and killed Younes Abouyaaqoub, the driver of the van used in the Barcelona attack.
Abouyaaqoub spent four days on the run before being spotted near the town of Subirats, just west of Barcelona.
Police say that all twelve suspects in the two attacks have now been killed or arrested.