Life returns to Barcelona's Las Ramblas
Comments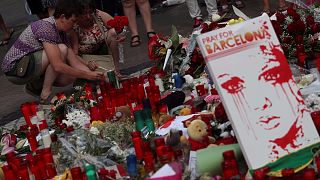 Residents and tourists are back on Barcelona's Las Ramblas avenue, paying tribute to the victims of the deadly van attack that took place there just days before.
But even as life returns to the city, for those who witnessed the horror, it will never be the same.
Ignacio Sanabria assisted the wounded during Thursday's attack. "There'll likely be a before and after in my life," the 29-year-old chef reflected. "Basically because … you never think it's going to happen to you, yet suddenly you find yourself right in the eye of the hurricane. So I guess it will [be a life-changing experience], but I'll try to deal with it as best as I can. But as I said, all those images repeating in my head, I don't know."
Fifty-seven-year-old Jordi Giro said people mustn't allow themselves to be intimidated: "Our duty is to bring life to the streets, return to the city the normality it deserves. A city that is international and must remain so, so we must park our fear away."
German Foreign Minister Sigmar Gabriel, who laid flowers at an impromptu shrine at the site of the attack, stressed the need for European countries to work together to combat terrorism.
"Now it is of course about helping the relatives and the victims, and at the same time to further develop cooperation in Europe, as has happened in recent months. But there is no absolute security with regard to cowardly killers."
Police are hunting for the driver of the van that killed 13 people and injured more than 100 when it ploughed through a crowd on Las Ramblas. Security has been tightened across the country but, for now, Barcelona is undeterred.