Battle for Raqqa: those fleeing city complain of lack of food and medicine in stifling summer heat
Comments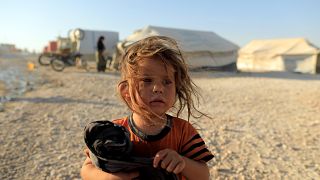 Syrians fleeing Raqqa say a lack of resources and the grueling summer heat are making life increasingly hard.
At one refugee camp, north of the embattled Syrian city, severe shortages of water, food and medicine are being reported as more and more people attempt to escape ISIL.
One man from Deir Al Zor said: "We left Deir Al Zor on the 2nd of this month. We've been on the road for more than a week. We fled the airstrikes, the destruction, the airplanes, there was no food, no water, no bread. [ISIL] were forcing anyone between the ages of 15 to 40 to join them. We escaped from Daesh to come here. We spent a week on the road, in the wilderness, without food or water, and we have just arrived here at the camp."
The mass exodus of Raqqa has been prompted by the advance of Kurdish militia on the city. Fighting among them, one British man, a former IT worker turned sniper.
"Before I came here, I was you know just living a normal life like everyone back home. I was fixing computers, and I was a painter. And yeah, I was just doing normal stuff like everyone else. And then I decided I wanted to come join the YPG, I wanted to fight evil in Syria. And yeah, simple as that really," Jack Holmes said.
The US-backed offensive to capture ISIL's de facto Syrian capital was launched in June.
So far, the Kurdish led forces are believed to have taken control of around half the city.