Australian teen hospitalised after vicious sea bugs attack
Comments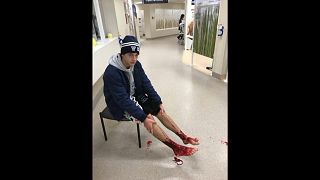 Just when you thought it was safe to go back in the water.
A teenager in Melbourne Australia has been attacked by sea bugs after going for a night-time swim, leaving his ankles and feet covered in blood.
Sam Kanazay, 16, received hospital treatment after leaving the water with what he thought was sand covering his ankles.
From his hospital bed, he told reporters: "By the time I'd walked across the sand, about 20 metres, to put my thongs on, I looked down and noticed that I had blood all down my ankles and feet."
Reporter: "It must have been frightening."
"Yeah, I didn't really know what to think of it," said Sam. "It was a bit of a shock and a random thing to see. I wasn't expecting it at all."
The bugs are known as amphipods, which Sam's father later managed to catch with a little bit of raw meat.
Jarrod Kanizay filmed the bugs eating the meat and shared the video on the web.
"These critters were pulled out of Brighton Beach tonight, one night after Sam was bitten," he said.
"They were trapped by meat in a pool net … and these guys clearly love red meat … they're devouring this."
Sam was in pain after the attack but after antibiotic treatment is expected to make a full recovery, hopefully without scarring.