Thousands flee as new wildfire hits southern France
Comments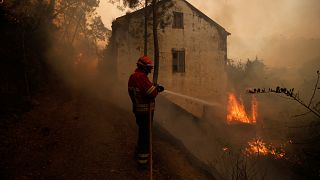 At least 10,000 people were evacuated overnight as wildfires continue to ravage parts of southern France.
Holidaymakers were among those forced to flee the latest blaze in the Var region. Hundreds of hectares of land have been destroyed and the situation is being described as 'critical'.
Amid strong winds and sweltering temperatures, the French Riviera coast has been in the grip of fierce wildfires for days. The French island of Corsica has also been badly hit.
Local authorities say several firefighters have been injured but there are no immediate reports of deaths, unlike with similar wildfires that have killed dozens elsewhere in southern Europe, notably Portugal.
IN PICTURES: Fires rage across France https://t.co/6lRrHPtDEtpic.twitter.com/y71CbL9vLN

— The Local France (@TheLocalFrance) 25 juillet 2017
One of the French blazes was thought to have been started by a bolt of lightning, but carelessly discarded cigarette butts are often blamed for setting tinderbox areas of the midsummer southern coast alight.
With an area the equivalent of nearly 3,000 football pitches going up in smoke in recent days, France has asked for help from the European Union.
Thousands of firefighters have been battling blazes across Europe over the past week.
In Portugal, forest fires have ravaged areas in the Castelo Branco and Santarem provinces, forcing at least 10 villages to be evacuated.
Authorities say more than 75,000 hectares of forest have been destroyed by fires this year alone.
In June, 64 people were killed in Portugal after their vehicles were engulfed by flames in a hilly region some 200 km northeast of Lisbon.
In Italy meanwhile, a major industrial fire filled the skies above Rome with smoke and caused traffic congestion. And arsonists are suspected to be responsible for the second blaze in two weeks at the city's Castel Fusano pine wood centre.
Fires emergency rages on - Gargano blaze continues, stench in Milan after trash depot fire https://t.co/hKuHtJFsgQ

— Ansa English News (@ansa_english) 25 juillet 2017
with Reuters