West Bank: Two Palestinians killed in clashes with Israeli security forces
Comments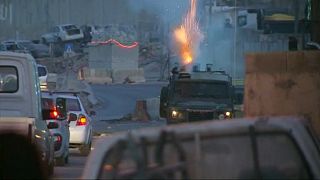 Two Palestinians have been killed in clashes with Israeli security forces in the occupied West Bank.
In Jerusalem, Israeli police used riot gear to disperse dozens of Palestinians who threw stones and bottles at them.
Israeli Defence Minister Avigdor Lieberman has ordered extra troops into the West Bank and the home of the Palestinian attacker who stabbed to death three Israelis on Friday has been raided.
The Israeli deaths occurred hours after three Palestinians were killed in violence prompted by Israel's installation of metal detectors at entry points of the al-Aqsa Mosque compound in Jerusalem.
According to local television, Channel 10, Public Security Minister Gilad Erdan is expected to talk to Prime Minister Benjamin Netanyahu in order to check out alternatives to the metal detectors, including the option of using full body scanners but without conducting an invasive inspection of visitors to the site.
"In these days we are examining options and additional alternatives [to the metal detectors] that will ensure safety and prevent a terror attack from happening again," Maj.-Gen. Yoav Poly Mordechai, Coordinator of Government Activities in the Territories, told BBC Arabic on Saturday night.
"We have ideas, including the removal of the magnetometers which are solely a security solution, and we'll see what the existing alternatives are," he added.
The United Nations Security Council is to meet on Monday to discuss ways of defusing the deadliest outbreak of violence between the two sides for years.