Protesters detained in Turkey as part of government's widening crackdown
Comments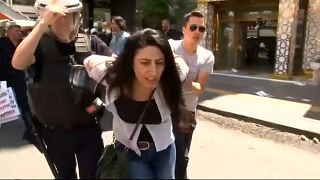 Turkish police detained 47 protesters in capital Ankara on Sunday (July 23) demonstrating in support of two teachers arrested for going on a hunger strike, private broadcaster CNNTURK reported.
Literature professor Nuriye Gulmen, 35, and primary school teacher Semih Ozakca, 28, were jailed two months ago over a hunger strike protest which a court ruled was conducted on behalf of a terrorist leftist group, the DHKP-C.
They went on hunger strike after being dismissed from work with a government's decree as part of a widening crackdown. Police used pepper spray and water cannons on protesters as they gathered in Ankara's Kizilay square. Some demonstrators were dragged away by police and detained, but others returned shortly afterwards trying to maintain their protest.
The teachers have said their hunger strike aims to highlight the plight of around 150,000 state employees suspended or sacked after the July coup attempt, which president Tayyip Erdogan blames on followers of a U.S.-based cleric.