Hundreds spend night outdoors following Kos earthquake
Comments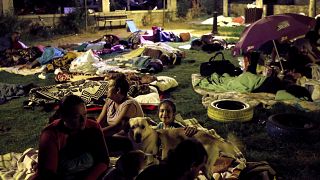 Hundreds of tourists and residents of the Greek island of Kos have spent the night out of their homes and hotels on Friday into the early hours of Saturday following a powerful earthquake.
The 6.5-magnitude quake shook beach resorts in Greece and Turkey early on Friday.
Many residents slept in their cars, others in sleeping bags or under blankets in parks or playgrounds.
Tourists slept on sun loungers by hotel swimming pools or elsewhere in the outdoor grounds.
Two tourists died after being crushed when a building collapsed on a bar in Kos, and nearly 500 others were injured across the Aegean Sea region.
The quake also destroyed parts of old buildings and monuments in the old town of Kos and damaged the main port which remained closed.