Two killed on Greek island in powerful earthquake
Comments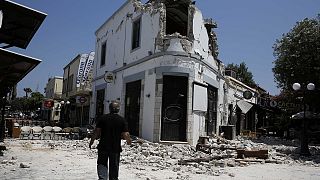 Two people have been killed and more than a hundred injured after a powerful earthquake caused a building to collapse onto tourists on the Greek holiday island of Kos.
When the earthquake struck, at about 01:30 Friday morning, it also caused panic on the nearby shores of Turkey.
Rescuers say the two men who died in the collapse at a club, in the north of the island, were from Turkey and Sweden.
Turkey's disaster and emergency management authority said the earthquake had a magnitude of 6.3 but other reports put the magnitude as high as 6.7.
Emergency services are being supported by the army.
Around 70 people were admitted to hospital after being injured while trying to escape the quake.
This is the second quake, exceeding magnitude 6.0 to hit Greece's coastal region with Turkey within a few weeks. They've caused more than a hundred aftershocks.
Ferry services to Kos have been suspended because of damage to the port.
Greek island of #Kos & coast of #Turkey hit by powerful #earthquake early this morning.

More information here: https://t.co/YXXItYb10Apic.twitter.com/edhyvmaaUO

— Travel B Corporate (@TBCorporate) July 21, 2017