Israeli fury as UNESCO names Hebron 'Palestinian World Heritage site'
Comments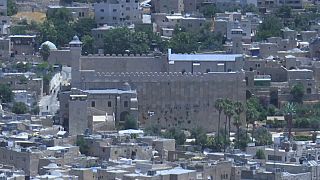 "Another delusional UNESCO decision."
That was Israeli Prime Minister Benjamin Netanyahu's angry response after Hebron's Old City with its ancient shrine, revered by Muslims and Jews,
was named a Palestinian World Heritage site
.
Hebron is the largest Palestinian city in the occupied West Bank. But a few hundred Jewish settlers live there too, protected by Israeli soldiers whose security clampdowns restrict Palestinian movements.
Hebron has also been placed on an 'in danger' list by the UN cultural organisation.
Statement by Prime Minister Benjamin Netanyahu on the UNESCO resolution (English captions available)https://t.co/XzdAOUHq8K

— PM of Israel (@IsraeliPM) 7 juillet 2017
Khaled Fahed Qawasmi, an official from the local council in Hebron, said: "The truth is that it is an old Canaanite city that several communities lived in and where several religions prevailed… It is an Arab Islamic city where the majority were Muslims, while a Jewish minority and a Christian minority lived there. It was, historically, an example of religious coexistence."
The holy site comprises what Jews call the Cave of the Patriarchs where Abraham, Isaac and Jacob, and their wives, are believed to be buried. Muslims call it the Sanctuary of Abraham, where the Ibrahimi Mosque stands.
In protest at the move, Israel says it will cut $1 million from its funding to the UN. The money will be spent instead on establishling a museum and other projects covering Jewish heritage in Hebron.
Israeli leaders rage over 'anti-Semitic' UNESCO resolution on Hebron https://t.co/ffh37Mm5W4

— Haaretz.com (@haaretzcom) 7 juillet 2017
The funding cut is Israel's fourth in the past year, taking its UN contribution from $11 million to just $1.7 million, an Israeli official said.
Each cut has come after various UN bodies voted to adopt decisions which Israel said discriminated against it.
Palestinian Foreign Minister, Reyad Al-Maliki, said the UNESCO vote, at a meeting in Krakow, Poland, was proof of the "successful diplomatic battle Palestine has launched on all fronts in the face of Israeli and American pressure on (UNESCO) member countries."
Just inscribed on @UNESCO#WorldHeritage List & World Heritage in Danger List: Hebron/Al-Khalil Old Town, #Palestinehttps://t.co/ztbb8RIMiZpic.twitter.com/2hLGRciASq

— UNESCO (@UNESCO) 7 juillet 2017
with Reuters