Liberation of Mosul is 'imminent'
Comments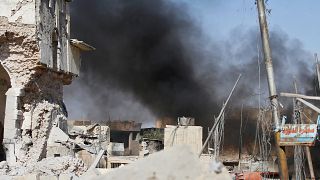 Iraqi forces and their allies say they're just days away from fully liberating the city of Mosul, which the Islamic State militant group made its capital three years ago.
Iraqi Prime Minister Haider al-Abadi declared on Thursday (June 29) the end of ISIL's self-proclaimed caliphate in the country, as troops seized what's left of the medieval al-Nuri Mosque – a huge symbolic victory for the government.
We are seeing the end of the fake Daesh state, the liberation of Mosul proves that. We will not relent, our brave forces will bring victory

— Haider Al-Abadi (@HaiderAlAbadi) June 29, 2017
ISIL proclaimed its caliphate from the al-Nuri mosque in 2014, and reportedly blew it up last week as the US backed forces closed in.
The liberation of Mosul is now only days – not weeks – away, Col. Ryan Dillon, spokesman for the U.S.-led anti-ISIS coalition in Iraq and Syria told reporters.
'Their fictitious state has fallen': Iraqi military declares end of caliphate after capturing historic Mosul mosque. https://t.co/IT0e1sAE4mpic.twitter.com/cqUeWJOnFt

— Reuters Top News (@Reuters) June 29, 2017
But some die-hard ISIL fighters are still bottled up in a handful of neighborhoods. The army is retaking the Old City metre by metre to try and protect the civilians still trapped within.
The past eight months of fighting have devastated Mosul, leaving thousands of civilians killed, and nearly half of the city's population displaced.
#Iraqi grit, determination, and support from the Coalition will lead to the imminent liberation of #Mosul. #DefeatDaesh

—

OIR

Spokesman (@OIRSpox) June 29, 2017