Turkish security officers charged over US protest attack
Comments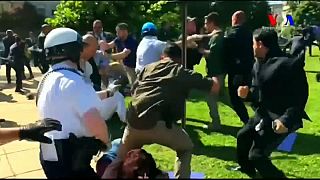 Prosecutors in the United States have charged twelve Turkish security and police officers with assault after an attack on protesters in Washington during Turkish President Tayyip Erdogan's visit to the Washington last month.
The skirmish on May 16, which caught on video, left nine protesters injured outside the Turkish ambassador's residence and further strained ties at a time when the NATO allies are in sharp
disagreement over policy in Syria.
A statement read on behalf of the U.S. Secretary of State Rex Tillerson said the charges send a clear message the country "does not tolerate individuals who use intimidation and violence to stifle freedom of speech and legitimate political expression".
Turkey condemned the charges and said the Turkish citizens, who left the country with Erdogan, should not be held responsible for the incident.
"This decision taken by U.S. authorities is wrong, biased and lacks legal basis," Turkey's Foreign Ministry said in a statement.
"The brawl in front of the Turkish ambassador's residence was caused by the failure of local security authorities to take necessary measures."
The full list of names of suspects sought in assaults outside the Turkish Embassy on May 16thhttps://t.co/tjoGZRb5PTpic.twitter.com/HwAiE10cKd

— DC Police Department (@DCPoliceDept) June 15, 2017
U.S. State Department spokeswoman Heather Nauert would not say on Thursday whether an extradition request would be made.
The security officers are no longer protected by the immunity extended to them during Erdogan's recent visit, the State Department said.
"We will weigh additional actions," Nauert told reporters. Washington officials announcing the charges, which were filed in the Superior Court of the District of Columbia, described the treatment of the protesters as an attack on U.S. values.
Some of the protesters were associated with the Armenian National Committee of America and accuse Erdogan of running a politically repressive government.
A video posted online showed men in dark suits chasing protesters and punching and kicking them as Washington police struggled to intervene.
"If they attempt to enter the United States, they will be arrested," Metropolitan Police Department Chief Peter Newsham said of the security officers charged in the case.
Newsham said there was no probable cause to arrest Erdogan, who watched the confrontation unfold from a nearby car.
Eighteen people have now been charged in the incident, including two Canadians and four Americans, according to prosecutors.
Two men were arrested on Wednesday. Sinan Narin of Virginia faces a charge of felony aggravated assault and misdemeanor assault, and Eyup Yildirim of New Jersey faces two charges of felony assault and a misdemeanor assault charge.