MEPs using taxpayers' money to rent offices from themselves
Comments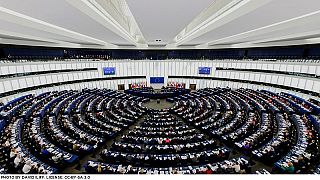 MEPs are renting offices from themselves and banking the cash using a 39-million-euro taxpayer-funded pot, a report shows.
An investigation by an EU-wide group of journalists into how MEPs use their 52,000 euro annual payment for expenses also uncovered:
*Dozens of MEPs pay national political parties from their expenses allowance
*Only 133 of the European Parliament's 748 sitting MEPs are willing to disclose documents on how they spent the money
*87 MEPs said they did not have an office, despite a duty to maintain ties with their constituents
But campaigners say the biggest concern is that none of the findings are necessarily in breach of the parliament's rules.
At a time of intense scrutiny over the work of the European Union's institutions and questions over the bloc's budget, the investigation provides further ammunition to Eurosceptics.
European members are given a lump sum of 52,000 euros-a-year to fund general expenses – with no questions asked.
The fund, the General Expenditure Allowance (GEA), is primarily meant to finance office-running costs in MEPs' home countries
But four politicians – from Germany, Belgium and Sweden – admitted paying rent to themselves and 38 to their national political parties, says The MEPs Project .
However, the European Parliament does permit MEPs to rent offices from themselves or from their national political parties, as long as certain conditions are fulfilled.
These include paying a market rent for the office so as not to indirectly finance the political vehicles of which they are members.
The offices also cannot be used by other people or for other purposes and they must be clearly-marked as being one for European Parliament (EP) work.
But the EP has no way of knowing whether the rules are being adhered to. It has admitted it doesn't ask MEPs for invoices to justify expenditure or have any records of what offices the politicians work from.
Since 2010, no more than 20 instances of MEPs returning unused expenses funds have been recorded, according to the European Parliament.
"Considering the expenditure from the EU budget is subject to strict controls and audits, it is remarkable that MEPs do not uphold the same standards for their own finances," said Wouter Wolfs, a researcher from Leuven University in Belgium, who has a special interest in political financing.
"Of course, controls must be proportionate, but if you consider that it is an annual amount of 39 million euros – and there is reason for suspicion since we have seen misuse in the past – a stricter audit of the general expenditure allowance is justified."
Wolfs' comments come after MEPs voted down moves to make their general expenses more transparent.
MEPs already get a 96,000-euro annual salary; a 3.5 percent contributory pension; and an annual travel allowance of up to €4,264, among other expenses.
They are also given generous 'golden goodbyes' when they leave Brussels.
"I could never imagine
MEP
s giving out 39 million a year to member states for cohesion policy, without one receipt. There is a level of hypocrisy on the financial management score that we find is quite astounding," said Nick Aiossa, EU policy officer at Transparency International.
"We talk about the rise of the Eurosceptic nationalist forces, the narrative that has been put around Europe on this. And yet here we see such small but symbolic problem with the parliament that can be fixed, literally, almost immediately. Frankly, they are doing a disservice to themselves, particularly in the run up to the 2019 elections, and some of the national elections. I think that the sooner they'll fix this, the better they'll be."
The journalists said 133 of the 748 current MEPs were open about what rent they pay, including 42 who said they either paid themselves or their national political parties.
Eight MEPs in Germany said they were owners of the houses where their national offices are located, but there is no suggestion all of them are paying rent to themselves.
Eighty-seven MEPs said they did not have an office.
The EP says MEPs split their time between Brussels, Strasbourg and their constituencies, with four weeks a year at least set aside for serving those they represent.
While office expenditure makes up the bulk of what the GEA is intended for, it can be used for other costs, such as hotel and restaurant bills within a member's country and volunteers' travel expenses.
"Renting an office is one of the expenditures covered by the General Expenditure Allowance. This is a lump sum that – as a principle – is not controlled by the European Parliament," EP spokeswoman Marjory van den Broeke said.
"An MEP may indeed rent an office from a national political party, provided certain conditions are respected and the rent is at market price, in order to prevent an indirect financing of the national party.
"Moreover, the office should be used solely for the exercise of the European mandate. As such, the office should be separate from other offices and clearly marked as one for European Parliament work. It can also not be used by other people or for other purposes. Those are all the conditions that have to be respected.
"The fact that it's a lump sum means that MEPs do not need to hand in any invoices or other bills. This also means that the European Parliament administration does not have any information on any offices used by MEPs."
MEPs' expenses have been reformed after a series of controversies – a leaked internal report in 2009 revealed 'systematic abuses'. It included payments made to assistants not accredited with the parliament and one MEP who paid a €223,000 staff allowance to one person, understood to be a relative.
In 2015 The MEPs Project said it would go to the European Court of Justice to push for the parliament to release a breakdown of politicians' expenses outlay.