Car ploughs into pedestrians in New York's Times Square
Comments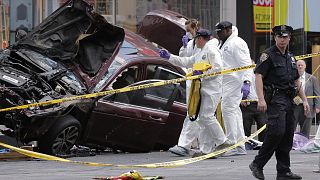 An 18-year-old girl has been killed and 22 other people injured after a speeding car ploughed into pedestrians in New York's Time Square.
The suspected driver of the vehicle has been named as 26-year-old Richard Rojas.
He's said to have performed a u-turn driving at speed against the flow of traffic before mounting the pavement. Witnesses say he drove three blocks, smashing into pedestrians, before dramatically hitting bollards.
Accused of trying to flee the scene, Rojas, was immediately arrested by police.
But despite being reminiscent of recent car-rammings in London, Stockholm, Berlin and Nice officials don't believe this incident is terror related.
New York mayor Bill de Blasio said:"We continue to go about our lives as New Yorkers. Now, thank God, based on what we know now, there is no indication that this was an act of terror."
Following tests police has said they think the suspect may have been high on drugs, notably synthetic marijuana.
Rojas, a US Navy veteran and a Bronx resident Bronx, is reported to have previous convictions for drunk driving.
Some eyewitness spoke of the terrifying moment they saw the vehicle coming towards them.
"He started coming right immediately, and people were yelling, and some moved out of the way right away, some people kind of got stuck on the car as he was driving up, and I was able to jump away as he was coming close to me," one man said.
Images from Times Square showed several casualties strewn across the pavement.
Among those hurt, four are believed to be critical, while three others sustained serious injuries.