The heat is on in Kyiv for second Eurovision semi-finals
Comments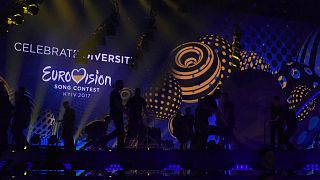 The heat is on in Kyiv where Eurovision hopefuls are polishing up their acts ahead the second semi-final in the Ukrainian capital.
The last ten places are up for grabs, meaning eight countries will go home empty handed.
Pundits are putting their money on Romania, Denmark, the Netherlands, and Malta for tonight's showstoppers, but France is hoping to claim some of the limelight with fan favourite Requiem.
Ukraine has chosen a metal band to represent them this year, and won't need to go through the torture of semi finals, as current winners, they get a free pass to the final.
At only 17-year's old Bulgaria's Kristian Kostov is the youngest entrant in this year's competition, and is hoping to be the first Eurovision winner born in this millenium.
Naviband from Belarus are injecting a bit of folk into the largely pop-led affair.