Mosul offensive "in final phase"
Comments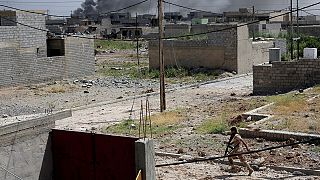 US-backed Iraqi forces have clashed with ISIL militants in northwest Mosul in a push to rout them from the city.
Seven months into the campaign to recapture Iraq's second-largest city, government forces say it is now in its final phase after opening a new front in the northwest of the city last week.
Ground has also been gained in several districts.
Heavy fighting
A Reuters reporter in the Harmat district, which has been partially retaken by the Interior Ministry's elite Emergency Response Division, said there was heavy fighting there on Tuesday.
A spokesman for the Emergency Response Division said 250 ISIL members had been killed in Harmat over the past 5 days.
The displaced
435,000 people have been displaced from the western half of Mosul since Iraqi forces began attacking it in February, according to UN figures.
Camouflage
Brigadier General Mahdi Abbas Abdallah of the Rapid Response Division says a growing number of militants are trying to leave the city by camouflaging themselves among fleeing civilians.
"We are conducting checks on all the fleeing families," Abdallah said.
Conditions in the handful of districts still under militant control are increasingly desperate as food runs out and civilians are killed under bombardment.
The context
ISIL seized Mosul in a shock offensive across northern and western Iraq in 2014 but have lost much of their gains to resurgent government forces over the past year.
Defeat in Mosul would still leave ISIL in control of swathes of Syria and Iraqi territory near the Syrian border.