Battle for Mosul: Iraqi army in 'final push'
Comments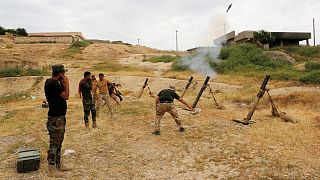 The Iraqi army's new push in the battle to recapture Mosul has been hailed as "the beginning of the end" for the extremist group there.
A US-led international coalition is providing air and ground support for the offensive to dislodge the militants.
It's spokesman, Colonel John Dorrian, says that Iraqi forces' surprise attack from the north means achieving that goal is just a matter of time.
"We believe that opening this new avenue of advance is the beginning of the end of ISIS in Mosul," he said.
"The loss of Mosul is going to deeply damage ISIS prospects. It is the second largest city in Iraq. They had a tremendous amount of prestige and they have been able to collect a lot of taxes and money from the people of Mosul through their brutal control measures. So the loss of this territory is going to be a very big setback for ISIL."
Mosul offensive: Iraqi army launches 'final push' as army attacks Isil from north-west https://t.co/r36t75HmGapic.twitter.com/DBAyizNkwz

— Telegraph News (@TelegraphNews) 5 mai 2017
The group's fighters are now besieged in the northwestern corner of Mosul which includes the medieval Grand al-Nuri Mosque where ISIL leader Abu Bakr al-Baghdadi declared a "caliphate" nearly three years ago, spanning swathes of Iraq and Syria.
Having started the offensive last October, Iraq's army is keen to finish the battle for Mosul this month.
But the big risk is to civilians, with up to half a million thought to be still in the area controlled by so-called Islamic State.