US rules out regime change in Pyongyang but urges action
Comments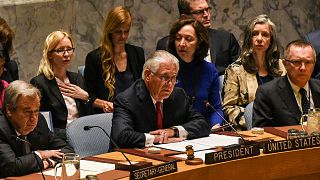 The US Secretary of State Rex Tillerson has warned that there's a "real threat" of an attack by North Korea on Japan and South Korea.
Chairing a ministerial meeting of the UN Security Council, Tillerson urged them to act "before Pyongyang does" and called on the international community to fully implement UN sanctions and to suspend or downgrade diplomatic relations.
"It is likely only a matter of time before North Korea develops the capability to strike the US mainland. Indeed, the DPRK (North Korea) has repeatedly claimed it plans to conduct such a strike. Given that rhetoric, the United States cannot idly stand by, nor can other members of this Council who are within striking distance of North Korean missiles," said Tillerson.
The council agreed that Pyongyang must primarily be brought to heel through financial sanctions.
Its biggest ally, China urged caution and restraint from all sides.
"The use of force does not solve differences and will only lead to bigger disasters. As the only way out, dialogue and negotiation also represent the sensible choice for all parties to maintain basic stability in the peninsula," said Chinese Foreign Minister Wang Yi.
North Korea, meanwhile, has put on a massive show of strength but remained silent over the prospect of returning to the talks table.
Its state broadcaster showed a demonstration it described as the largest ever by the Combined Army Forces to celebrate the 85th anniversary of the army.