Trump warns of 'major conflict' with North Korea
Comments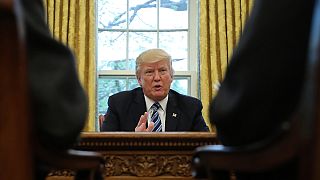 US President Donald Trump is warning there could be a "major conflict" on the cards with North Korea.
It comes amid tensions over Pyongyang's nuclear and ballistic missile programmes. China, North Korea's only major ally, fears the situation could escalate or slip out of control.
Trump says he wants a peaceful solution, but a military option is not off the table.
"Well, there's a chance that we could end up having a major, major conflict with North Korea. Absolutely," the president said.
A US missile defence system being deployed in South Korea is expected to be in operational in the coming days, and Trump says he wants Seoul to foot the bill for it.
"So I informed South Korea it would be appropriate if they paid. Nobody is going to do that. Why are we paying a billion dollars? It's a billion dollar system. It's phenomenal. It's the most incredible equipment you have ever seen," he said.
The arrival of the missile defence system has sparked protests in South Korea. Beijing is also angry about its deployment, claiming its radar can see deep into China, and undermines its security.