Pope to strengthen ties with Islam during Egypt trip
Comments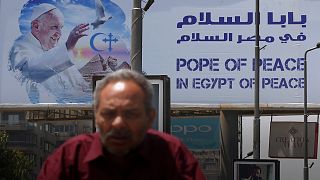 Despite facing security concerns and criticism from his most conservative followers, Pope Francis is preparing for his visit to Egypt.
Catholics in Egypt make up less than 1% of the population, but Pope Francis wants to strengthen dialogue between religions.
The head of the Catholic Church will meet with the Sheikh Ahmed al-Tayeb, the Grand Imam of the world's most influential centre of Sunni Islamic teaching, as well as Pope Tawadros II, the head of the Coptic Orthodox Church.
Pope's Egypt trip a sign of solidarity with suffering Christians §RV https://t.co/oJuU8nzKwm

— Vatican – news (@news_va_en) April 25, 2017
Ahead of his visit, he said: "I hope that it may also offer a valid contribution to inter-religious dialogue with the Islamic world, and to ecumenical dialogue with the venerated and beloved Coptic Orthodox Church.
"Our world, torn by blind violence, which has also afflicted the heart of your dear land – needs peace, love and mercy."
Pope Francis sends message to Egypt ahead of visit https://t.co/hXE2B7mt1D#Catholic

— Catholic News Agency (@cnalive) April 25, 2017
The Vatican says that Francis is convinced that Christian-Muslim dialogue is more important than ever.
However, the Pope's view is not shared by all Catholics.
After a string of terrorist attacks on the county's Christians, some conservatives want no dialogue at all with Islam.
In his 27 hours in Cairo, the Holy Father is meeting President Abdel Fattah al-Sisi, which raised eyebrows among human rights activists.
Egyptian Christians fear for future after latest bombing §RV https://t.co/p7ZRsEsLmn

— Vatican – news (@news_va_en) April 26, 2017
Asked if the Pope would question the president over the country's human rights record, the Vatican said the Pope Francis has made "trips more delicate than this one".
Security remains a priority with the visit coming less than three weeks after 45 people were killed in attacks against churches in Alexandra and Tanta, claimed by Islamic State.
Despite his vulnerability as a potential target, Pope Francis has refused to appear in an armoured vehicle, and will instead move around in a closed car in order to be closer to the people.