US submarine arrives in South Korea as the North carries out a huge live fire drill
Comments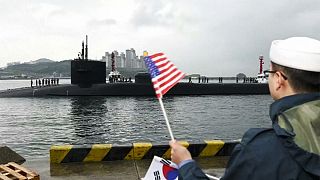 North Korea has reportedly conducted a huge live-fire exercise to mark the foundation of its military.
South Korea's Yonhap News Agency says the North appears to have deployed a large number of long-range artillery units in the region of Wonsan on its east coast.
The report cites an unidentified South Korean government source as saying the exercise was possibly supervised by the North Korean leader, Kim Jong Un.
South Korea's Defence Ministry said it could not immediately confirm the report.
"Our military is closely monitoring the North Korean military's movement in Wonsan and we are firmly maintaining readiness," said South Korea's Office of the Joint Chiefs of Staff.
What the North says
There are defiant comments in North Korea's state media, marking the 85th anniversary of the foundation of the Korean People's Army.
The military is quoted as "being prepared to bring to closure the history of US scheming and nuclear blackmail."
"There is no limit to the strike power of the People's Army armed with our style of cutting-edge mlitary equipment, including various precision and miniaturised nuclear weapons and submarine-launched ballistic missiles," the official Rodong Sinmun newspaper said in a front-page editorial.
USS

Michigan
The US submarine has docked in South Korea in a show of force amid growing concern over Pyongyang's nuclear and missile programmes.
The port call by the USS Michigan came as a US aircraft carrier strike group steamed towards the region.
Cruise missile submarine USS Michigan deployed to Korean peninsula https://t.co/KIuFO5vREWpic.twitter.com/EkqVJdqI6o

— Washington Examiner (@dcexaminer) 25 avril 2017
#USSMichigan arrives in Busan, strengthens partnership with #ROKNavy: https://t.co/BsmuOJ22j9 via USNavyKorea</a> <a href="https://t.co/ydtcxnKAYA">pic.twitter.com/ydtcxnKAYA</a></p>&mdash; U.S. Pacific Fleet (USPacificFleet) 25 avril 2017
Envoys meet
Top policy envoys for North Korea from South Korea, Japan and the US are meeting in Tokyo.
Japan's envoy on North Korea, Kenji Kanasugi, said after talks with his US and South Korean counterparts that they all agreed China should take a concrete role to resolve the crisis.
"We believe China has a very, very important role to play," said the US envoy for North Korea policy, Joseph Yun.
#northkorea – Nuke envoys from S. Korea, U.S., Japan meet to coordinate ways to reign in North https://t.co/h7P1sUFfJipic.twitter.com/j0OsUcPtmW

— North Korea News (@NorthKorea247) 25 avril 2017
What are their concerns?
Fears have risen in recent weeks that North Korea could conduct another nuclear test or long-range missile launch, in defiance of UN sanctions.
South Korean military exercise
South Korea's navy says it is conducting a live-fire exercise with US destroyers on Tuesday, in waters west of the Korean peninsula.
The plan is to join the carrier strike group approaching the region.
---
Discover euronews quotes and opinions about South Korea to get all views