Libya's only female body-builder prepares for Belorussian international competition
Comments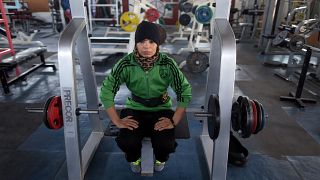 In a country ravaged by war, Fathia Al-Amamy, spends most of her weeks at the gym lifting weights and training.
The 48 year-old is Libya's only female body-builder but she will be representing her country in Belarus this summer in an international body-building competition.
In conservative Libya there are no gyms dedicated for women, but Amamy who is a trainer herself, began training in 2012 as her country descended into civil war.
"I'm the first champion across Libya, thanks be to God. My first participation was in 2012, in the finals of the eastern region", she said. "The second championship was in March 2017. It was a championship carried out across Libya and I reached the finals. Now I will be representing Libya in Belarus during Ramadan."
Amamy's friends and family convinced her to train and compete. A devout Muslim, she wears the hijab while competing.
Her trainer, Mohamed al-Waseea said he hopes the Libyan sports union will rally around Amamy and support her.
"This is the first time a Libyan woman has competed internationally, so we're hoping that the Libyan sports union will support this woman", Waseea said. "Even if just by encouraging her by providing her with good clothing and food or even positive words. You know how things are in the country. I'm hoping for there to be encouragement so that she can be motivated to perform better."