France mourns slain police officer
Comments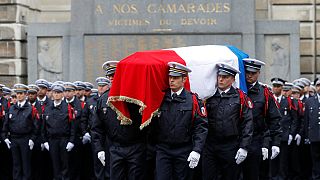 A ceremony has been held in Paris to honour the police officer shot dead on the Champs Elysee last week.
Mourners gathered in the courtyard of main police headquarters in the French capital.
They were joined by President Francois Hollande and presidential candidates Emmanuel Macron and Marine Le Pen.
❗️Une minute de silence a été respectée dans toutes les unités en #Hommage au capitaine de #Police Xavier Jugelé assassiné le 20/04 à #Parispic.twitter.com/8CjZdYTFD6

— GendarmerieNationale (@Gendarmerie) 25 avril 2017
Macron and Le Pen pay tribute to officer killed in Champs Élysées attack https://t.co/rYyzziWjz9

— Guardian World (@guardianworld) 25 avril 2017
Xavier Jugele
37-year-old Xavier Jugele died when an attacker opened fire on a police van last Thursday evening.
He was sitting in the vehicle and was killed when attacker Karim Cheurfi opened fire.
He has been posthumously awarded France's Legion of Honour.
Attentat des #ChampsElysees : Xavier Jugelé, 37 ans, 248ème victime du terrorisme en France depuis 2015. https://t.co/Zx6zZXahGgpic.twitter.com/9f2tS9UBwX

— La Dépêche du Midi (@ladepechedumidi) 21 avril 2017
#XavierJugele François Hollande remet la légion d'honneur à Xavier Jugelé à titre posthume. pic.twitter.com/bzh4dpmep2

— Public Sénat (@publicsenat) 25 avril 2017
The ceremony
The memorial got underway at 11am at the police headquarters on the Ile de la Cite in the centre of Paris.
President Francois Hollande took the salute.
Those present included:
Francois Hollande
Emmanuel Macron
Marine Le Pen
former president Nicolas Sarkozy
former prime ministers Manuel Valls, Jean-Marc Ayrault and Jean-Pierre Raffarin
130 colleagues of the deceased officer are also present.
"Xavier died while doing his duty," said Johanna Primevert, the police spokesperson. "The nation, its citizens and the police have it in their hearts to pay tribute to him and show their admiration for what he has done."
The grieving partner
Xavier Jugele's partner gave a moving speech during the ceremony.
"Cette haine je ne l'ai pas, elle ne te ressemble pas, ne correspond en rien à ce qui faisait battre ton coeur" conjoint du capitaine Jugelé pic.twitter.com/Pw4VH75SpA

— franceinfo (@franceinfo) 25 avril 2017
At the same time, a service was held at the town hall of Romorantin, Xavier Jugele's home town in the Loir-et-Cher department where he will also be buried.
13th of November, 2015
Xavier Jugele had already come face-to-face with terrorism before last Thursday evening.
He was sent to the Bataclan concert venue on the night of the Paris attacks on November 13th, 2015.
He returned to the Bataclan when it re-opened last November for a concert by the musician, Sting.
Xavier Jugele, le policier tué jeudi soir, était présent au concert de réouverture du Bataclan -> https://t.co/TiS3BuOVxE#ChampsElysees

— Gaël Vaillant (@GaelVaillant) 21 avril 2017