Rally against 'nationalists' - Macron's call after French election success
Comments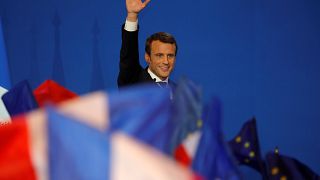 In one year, we have changed the face of politics. That from independent centrist Emmanuel Macron, as he sealed his place in the second round of France's presidential election.
The pro-EU ex banker and former economy minister called on people to rally behind him – against the threat of what he called "nationalists."
"My dear fellow citizens, there are not many Frances, there is only one. France, ours. France of patriots in a Europe that protects and that we will have to renew," said Macron.
"The task will be immense. I'm ready, by your side. The fight to be worthy to lead our country begins tonight, and we will win it. Long live the Republic, long live France."
Macron, 39, has never taken part in any parliamentary election and founded his party only a year ago.
Losing rivals Francois Fillon and Benoit Hamon both called on their supporters to back him in the second round.