Far-left voters voice frustration at Melenchon's HQ
Comments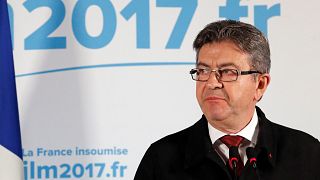 Many leftists in France hoped to see the firebrand Jean-Luc Melenchon make it to the runoff, after a meteoric rise in opinion polls.
But the leader of the anti-austerity, anti-establishment movement France Untamed ended up fourth in the race.
At his headquarters, the mood was a mix of disappointment, pride, and disgust with the choice left for the second round.
"We led a good battle, we rose in the polls, it was really nice. France unfortunately chose a candidate who comes from god knows where, with a program we consider very hollow. France doesn't like change, so here we go again for five more years," one Melenchon supporters told Euronews.
"To me, the future lies with 'France Insoumise' ('France Untamed'). The future lies with those French people who understand that the country is not doing well, the future is about listening to those French people who understand that we must stand up, that we must resist," said another.
Jean-Luc Melenchon did not give any voting instructions for the second round. The leader of France Untamed is letting his voters decide for themselves, a stance welcomed by his supporters.
Déclaration au soir du premier tour. #Presidentielle2017pic.twitter.com/f1fFS4RQY5

— Jean-Luc Mélenchon (@JLMelenchon) April 23, 2017