The far-left wild card in the French presidential election
Comments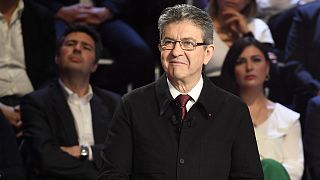 Far-left maverick Jean-Luc Melenchon is rising in the polls and becoming the ultimate wild card in the French presidential race.
The 65-year-old was rated the most convincing in a TV debate opposing all 11 candidates on Tuesday, and the latest polls show him catching up with scandal-hit conservative Francois Fillon.
Far-right leader Marine Le Pen and centrist Emmanuel Macron are neck and neck with around 24 percent of voting intentions. But Melenchon is not far behind, with around 17 percent.
His meetings are gaining momentum.
With talk of slapping a super tax on the super rich and renegotiating France's relationship to the EU, the razor-tongued political showman has split the left wing vote.
Last week, a Harris Interactive poll found that 53 percent of voters felt Socialist contender Benoit Hamon, who is struggling to stay above a 10 percent rating in the polls, should pull out of the race in favour of Melenchon
With just two weeks to go before the first round of the election, and over a third of voters still undecided, the race for the Elysee Palace is one of the most unpredictable in recent memory.