French election: The despair of voters
Comments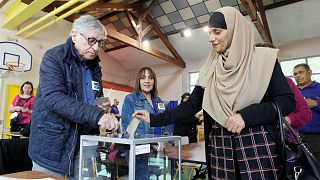 As the French head to the polls in the presidential election, the mood at a morning market in Lyon was was not one of excitement.
Instead, voters expressed despair over the choice facing France and uncertainty over the country's future.
One man said: "What am I waiting for? That the next one will do better then the previous one? That will be easy, since he didn't do anything, anything at all.
"I didn't want to vote, but I will go".
A female shopper added: "It's the first time that I've been undecided about an election…it's really difficult to choose today".
A farmer setting up his stall had little hope.
"I don't know if anyone can do anything," he said.
"Everything has to be rebuilt. At a European level, we, the farmers, we depend so much on them, that we don't have our destiny in our hands anymore."
A fellow producer added: "We hope it will get better, a little better, and those who work are paid fairly."
One woman said she might vote out of spite: "I don't know if we can wait for something or not.
"I have the impression that whoever will be the president it won't change much.
"So my choice is going to be difficult this afternoon and unfortunately this may be a vote out of spite ".
According to the last polls, more than a quarter of voters were still undecided about who to support.
It means the first round of the French presidential election is more uncertain than ever.