Ex-NFL star Hernandez found dead in prison cell
Comments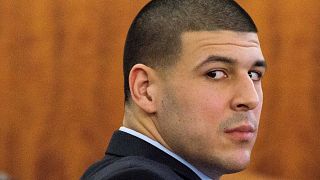 Former New England Patriot player Aaron Hernandez, who was serving a life sentence for murder, has been found hanged in his cell. The 27-year-old had been found innocent of a separate double killing on Friday 14 April.
Once one of the best paid players in the NFL, Hernandez was found unconscious in his cell at around 3am local time on Wednesday. Guards attempted to revive Hernandez, but he was pronounced dead at Leominster hospital.
Department of Corrections spokesperson Christopher Fallon said Hernandez, who was serving life without parole for the murder of his friend Odin Lloyd in 2013, had not been identified as a suicide risk.
"If he had made any kind of statement (indicating intent to self-harm), he would not have been in that unit", Fallon added.
Hernandez had signed a contract extension which included a signing bonus of €11.6 million before the 2012 season, making him the best paid player ever in his tight end position. He was cut and contract cancelled within hours of his arrest.
Hernandez's former agent has claimed there is "no chance" the former star committed suicide.
"Chico was no a saint, but… he would never take his own life", Murphy said.
Massachusetts state police continue to investigate the death.