More than 60 children among 126 killed in Syria bus bombing
Comments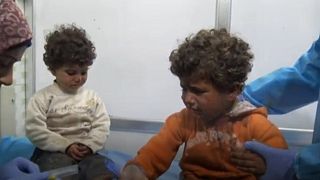 The death toll from Saturday's bomb attack on a crowded bus convoy outside Aleppo has reached 126 – at least 68 of them children – according to the UK-based Syrian Observatory for Human Rights.
There has been no claim of responsibility for the attack which pro-Damascus media said was carried out by a suicide car bomber.
The evacuation convoy was part of the so-called "four towns" deal, involving government-held Foah and Kefraya, as well as rebel-held Madaya and Zabadani near Damascus.
Those killed were mostly residents of the villages of al-Foua and Kefraya in Idlib province, but included rebel fighters guarding the convoy, said the monitoring group.
The operation to move Syrian civilians out of the two Shi'ite villages besieged by rebels and into government territory has resumed.
There were fears of revenge attacks on evacuees from rebel-held towns.
The evacuation has moved the country closer to a division of its national population along loyalty and sect lines.