Explosion hits evacuation convoy in Syria
Comments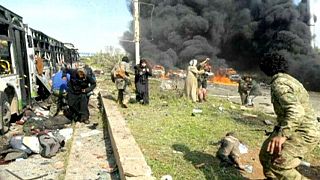 An explosion near a bus convoy waiting to enter Aleppo has killed or wounded dozens of people, according to pro-government media and pro-opposition activists.
Reports vary on the number of casualties, with Syrian TV saying 22 were killed and the Syrian Observatory for Human Rights announced a new death toll of 43.
Observers reported a car bomb had been the source of the blast. No group has claimed responsibility.
Pictures on social media showed the apparent aftermath of the blast, with bodies lying on the ground and blackened buses with windows blown out.
The blast occurred in the Rashidin area on the outskirts of Aleppo, where up to 70 buses carrying mostly Shi'ite residents of towns evacuated under a deal between the warring sides were waiting to enter the city.
Thousands of evacuees have been stranded in hostile territory since the transfers began on Friday. Now those being moved from other besieged areas fear revenge attacks.