GBU-43: What is 'the Mother Of All Bombs'?
Comments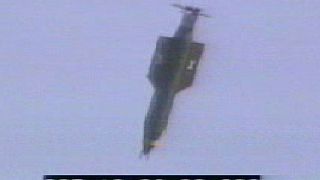 The United States has used its largest non-nuclear bomb on a series of ISIL caves and bunkers in eastern Afghanistan.
It is the first time the US military uses the GBU 43 bomb, also known the "mother of all bombs", on an active military mission.
According to the US Air Force, the bomb was first developed before the 2003 Iraq War and when it was tested by the military, it created a mushroom cloud so large it could be seen 32 kilometres away.
At nine metres long and just over a metre wide, the bomb weighs more than 9,700 kilograms and can deliver nearly 8,500 kilograms of explosives, according to military information website Deagle.
The explosion it creates is so large, its blast radius is more than a kilometre and a half.
The precision guided bomb is too big to be carried by conventional bombers in the United States' arsenal.
The bomb that was dropped Thursday in Nangarhar province Afghanistan, near to the border with Pakistan, was flown on a MC-130 plane – the same type of plane sometimes used to help refuel combat helicopters.
According to the military information website Deagle, a total of 20 GBU 43 bombs were created. They each cost an estimated €15 million to make.
The bomb is also known as a Massive Ordnance Air Blast bomb which not only combusts available oxygen at its target, it's also reportedly powerful enough to collapse underground tunnel and cave systems.
The strike specifically targeted ISIS-Khorasan militants in the region which the military have dubbed "ISIS-K".
"As ISIS-K's losses have mounted, they are using IEDs, bunkers and tunnels to thicken their defense," said General John W. Nicholson who commands US forces in Afghanistan in a statement. "This is the right munition to reduce these obstacles and maintain the momentum of our offensive against ISIS-K."
In announcing the strike Thursday, White House Press Secretary Sean Spicer said the bomb was part of the US' continued campaign in the region.
"The United States takes the fight against ISIS very seriously and in order to defeat the group, we must deny then operations space, which we did," Spicer said.