Russian 'hacker' arrested in Spain
Comments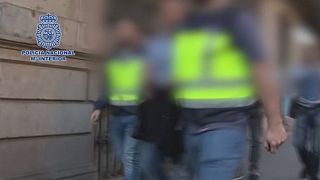 An alleged Russian hacker has been arrested in Spain at the request of the American authorities.
Pyotr Levashov was detained in Barcelona by Spanish police on Friday on a US computer crimes warrant.
A Spanish court will hear whether he can be extradited to the US.
Levashov's wife Maria told Russian broadcaster RT that the arrest had been made in connection with allegations that Russians had hacked the US presidential election.
According to the cybersecurity site KrebsOnSecurity, Levashov was allegedly responsible for "running multiple criminal operations that paid virus writers and spammers to install 'fake antivirus' software" under the alias "Severa."
Russian officials, including President Vladimir Putin, have repeatedly denied Russia tried to influence the US 2016 election.