Russia frees Kremlin critic Alexei Navalny after 15-day jail term
Comments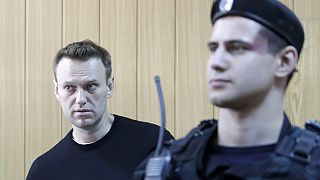 The Russian opposition leader Alexei Navalny has been released from jail after serving a two-week sentence for organising anti-corruption protests.
Despite the media attention outside the Moscow detention centre where he had been initially taken, he failed to appear.
The campaigner's spokesman explained that he had actually been freed from another facility elsewhere in the city.
Navalny was one of more than 1,000 people detained on March 26 during the large demonstration in the capital. There were several complaints of rough treatment by police.
Many protesters were given brief jail terms and fines.
The protests followed the release of a video made by the campaigner and his team about alleged corruption linked to Russia's Prime Minister Dmitry Medvedev.
Navalny's detention drew international condemnation.
Last week the European Parliament overwhelmingly backed a motion calling on Russia to release those held and drop charges what were described as "politically motivated" charges.
Navalny aims to run for president in Russia in 2018.