European Parliament calls on Russia to free Kremlin critic Navalny
Comments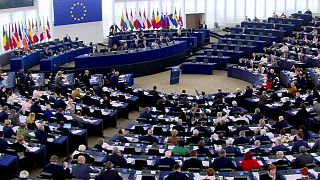 The European Parliament has demanded Russia free Alexei Navalny.
The Kremlin critic and several others were arrested last month during anti-corruption protests.
The Strasbourg based assembly voted overwhelmingly in favour of the motion calling for Navalny's release.
521 MEPs voted for, compared to 75 against. There were 36 abstentions.
Soraya Post MEP, from the centre-left Socialists and Democrats group said:
''Beware Mr Putin. You need to respect the constitution. You need to release your political prisoners. Or March 2017 will be another winter month that goes down in Russian history.''
Opposition leader Navalny was jailed at the end of last month for 15 days for resisting police orders during mass protests in Moscow. He was also fined for organising the banned demonstrations.
Several hundred other people were also detained during the anti-corruption rallies across the country.
Navalny has accused Russia's prime minister Dmitry Medvedev of corruption and secretly owning an archipelago of luxury homes.