Russian opposition leader Alexei Navalny is jailed for 15 days
Comments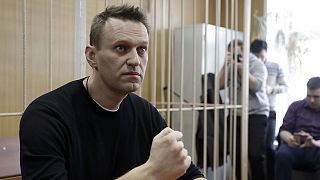 Russian opposition leader Alexei Navalny has been sentenced to 15 days in jail for his role during mass demonstrations.
Navalny was also fined 20,000 roubles after he was found guilty by a Moscow court of disobeying police orders and organising the protests.
Reacting to his sentence, the vocal critic of President Vladimir Putin said: "I think yesterday's events have shown that there are quite a large number of voters in Russia who support the programme of a candidate who speaks for the fight against corruption.
"These people demand political representation, and I strive to be the political representative for those people and that's why I have the right to run for office."
Navalny had earlier tweeted a picture of himself inside the courtroom, alongside the words: "A time will come when we'll put them on trial too – and that time it will be fair."
Всем привет из Тверского суда. Настанет время, когда и мы будем их судить (только уже честно) pic.twitter.com/zs6ueJMM8o

— Alexey Navalny (@navalny) March 27, 2017
Hundreds of protesters were arrested at the protests as thousands rallied across the country, calling on prime minister Dimitri Medvedev to quit over corruption allegations.
Navalny published reports alleging he held assets and property worth far more than his official salary accounted for.