Moreno claims victory in Ecuador election but rival calls for a recount
Comments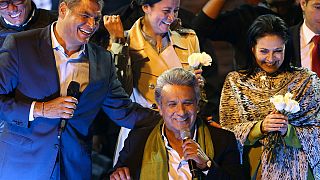 Leftist government candidate Lenin Moreno has claimed victory in Ecuador's closely fought presidential election, but the right-wing challenger has disputed the result and called for a recount.
With nearly all votes counted Moreno has just over 51 percent. His rival the conservative, former banker Guillermo Lasso has 48 percent. With the outcome so tight there have been reports of rioting in several cities.
Election too close to call as Moreno claims victory #ecuador#EcuadorDecidehttps://t.co/BfFBxE7OgJ

— Helena (@hlnr_) April 3, 2017
Voting is mandatory in Ecuador and the victor will take office on May 24 replacing President Rafael Correa after three terms. The outgoing leader has thrown his support behind Moreno who was his former vice-president.
"The revolution has triumphed again in Ecuador," outgoing President Rafael Correa said on Twitter. "The right has lost, despite its millions and its media."
A Lasso defeat would be a relief for WikiLeaks founder Julian Assange whom he had promised to remove from the Ecuadorian embassy in London.
President Correa gave him asylum so he could avoid extradition to Sweden, where he was wanted for questioning over a sex allegation, which he denies. Assange feared he would end up being sent to the US, where he is wanted for leaking state secrets.